Manchester's Central Mosque has become the first major mosque in the region to suspend Jummah prayers this week to help stop the spread of the coronavirus (COVID-19). Whilst other mosques announced only restrictions.
The Muslim Council of Britain (MCB) this week called for the suspension of all congregational activities at UK mosques and Islamic centres.
This advice was not taken on board by some mosques whilst others have suspended prayers on advice of their own clerics.
All mosques were urging anyone (of any age) who has symptoms (constant cough or temperature) not come to masjid at all. They are also encouraging worshippers to pray at home and stopped the use of the wudu area.
Worshippers were also told not to shake hands after prayers.
Manchester Central Mosque, Victoria Park said in a statement, "MCM will not hold Friday Prayers / gatherings (Jummah Prayers) until further notice. As a result, brothers and sisters are advised to pray Zhur prayers at home instead. Masjid Madrassa will be closed with immediate effect until further notice.
"All other activities including lectures/weekends courses/darse Quran/mahafil zikr/khatme Quran/consumption of food will be suspended until further notice.
"Funeral prayers will be offered at the cemetery'
"All other prayers will be offered in the masjid as normal only in the designated areas."
Jummah prayers are continuing elsewhere in the North West
Zakariya Mosque in Bolton announced they closed the madrassah on Tuesday.
ZAKARIYA MADRASAH CLOSURE. Let us turn to Allah with dua and istighfar as well as taking the precautionary measures shown below.
May Allah grant everyone protection, comfort and ease. Ameen#astaghfirullah #covid_19 #corona #coronavirus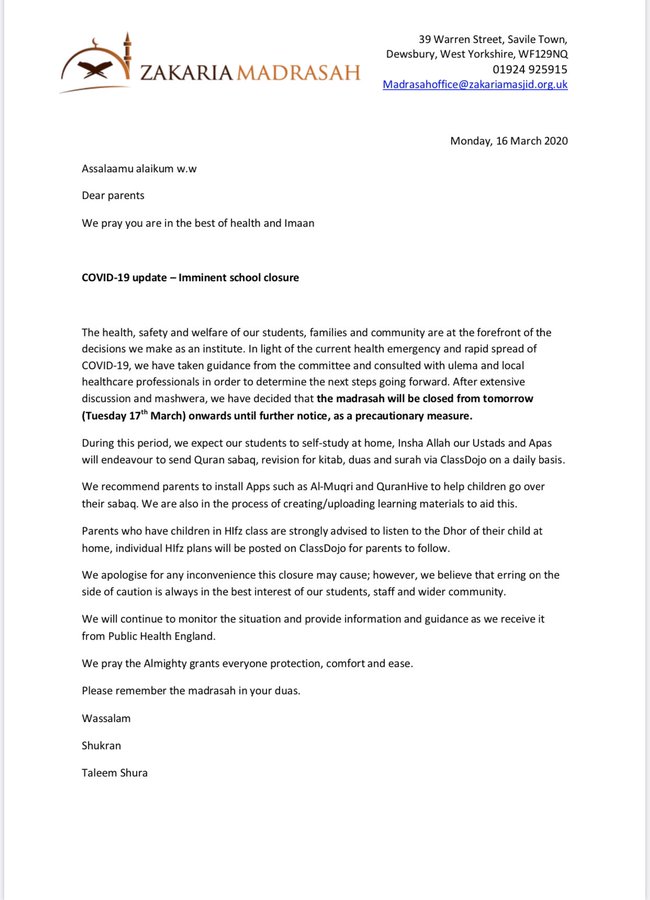 63:54 PM – Mar 17, 2020Twitter Ads info and privacySee Zakaria Masjid's other Tweets
The Madina Mosque Oldham urged worshippers not to attend the msoque if they had pre-existing health conditions.
Madina Mosque Oldham@TheMadinaMosque
#Corona #CoronaOutbreak #CoronavirusPandemic #Covid_19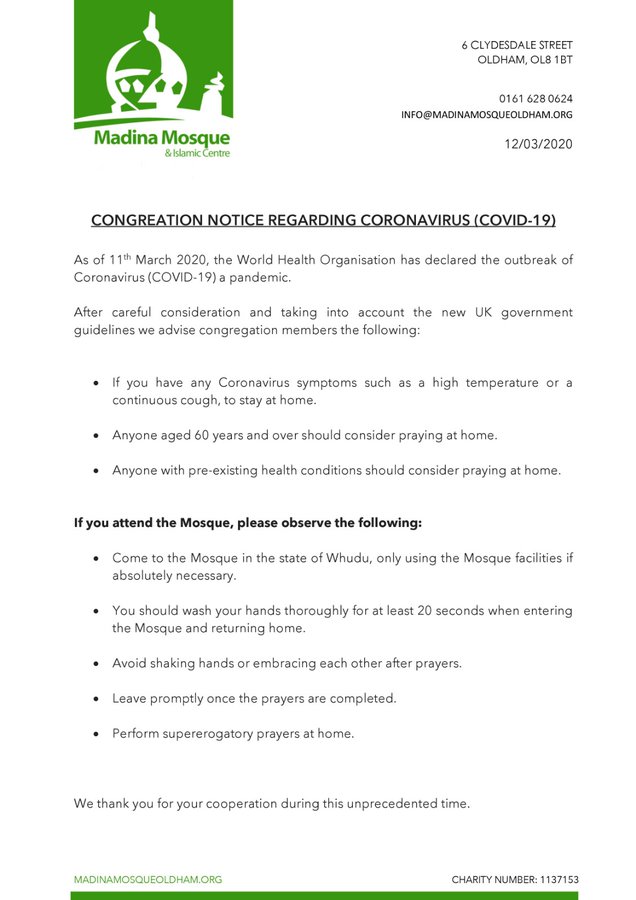 34:43 AM – Mar 13, 2020Twitter Ads info and privacySee Madina Mosque Oldham's other Tweets
Masjide Raza and Madina Jamia Mosques in Blackburn said Jummah prayers would be restricted.
A statement read, "Please do wudu at home. Don't use masjid toilets.
"Jumah: no speech just come 10 minutes before farz for khutbah and farz.(pray sunnahs at home). Raza Masjid juma is 1:00/ Madina Masjid 1:15
"Avoid shaking hands after Namaz."
Masjide Anisul Islam said Jummah prayers would take place but peoiple were asked to perform their nafl and Sunnah prayers at home. The mosque would be open from 12.45pm to 1.30pm.
Masjid Anisul Islam@AnisulMasjid
Please Take Note …
(With Immediate Effect)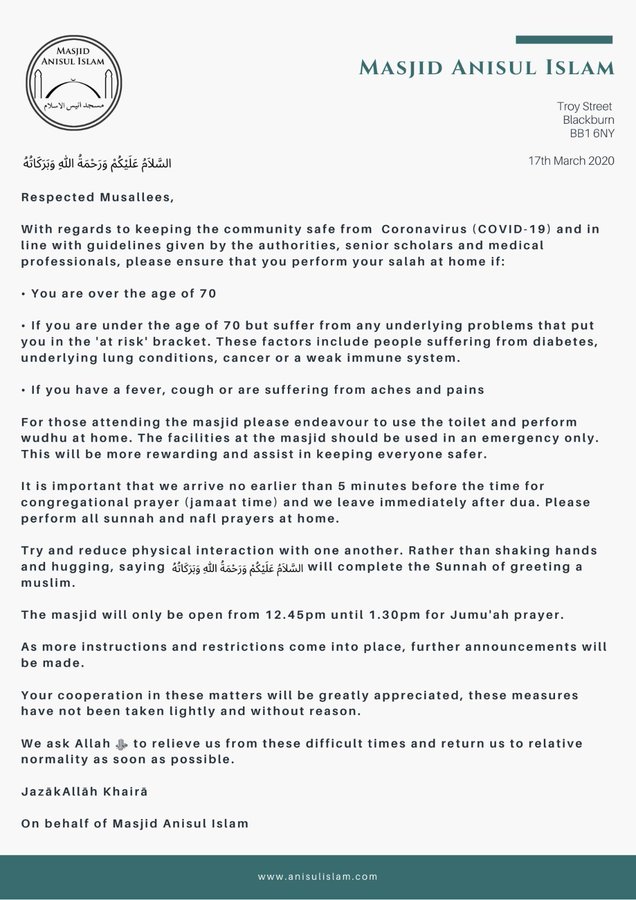 74:55 AM – Mar 19, 2020Twitter Ads info and privacySee Masjid Anisul Islam's other Tweets
Meanwhile the Jamia Ghosia Mosque on Chester, Blackburn said a special speech by Hafiz Usman regarding covid-19. 'It is requested for all brothers to turn up in good time as this concerns the community.'
Central Mosque Rochdale were holding two Jummah prayers and advised EVERYONE to bring their own towel or prayer mat.

Central Mosque Rochd@CMRochdale
Central Mosque Rochdale COVID-19 updates:

May Allah SWT accept and protect us all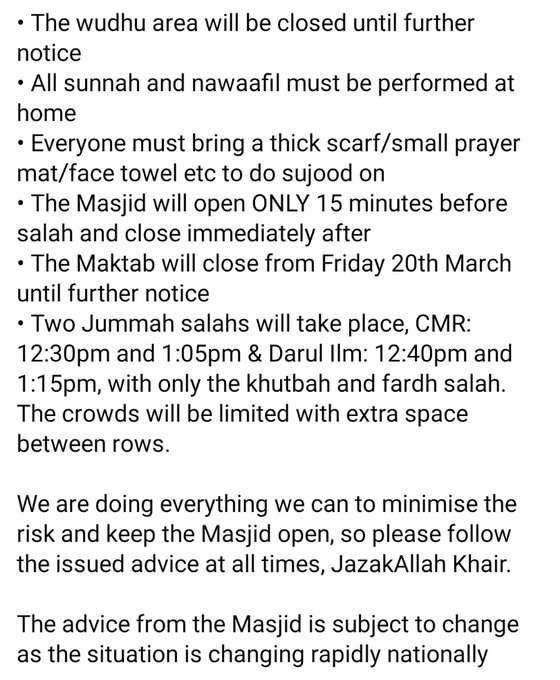 65:38 AM – Mar 19, 2020Twitter Ads info and privacySee Central Mosque Rochd's other Tweets
Madressa closures
The Quwwatul Islam in Preston said, "Madrasah Closure – following the guidence from the Department of Education, we will close after Madrasah on Friday 20 March 2020 until further notice."
The Abu Hanifah Foundation in Blackburn closed their classes on March 18.
The Lancashire Council of Mosque advised that mosques close classes.
Since #Government has announced today that UK schools to close this coming Friday, we LCM are strongly advising that all Madrasah classes close from this Friday onwards too, until further notice…Jzk.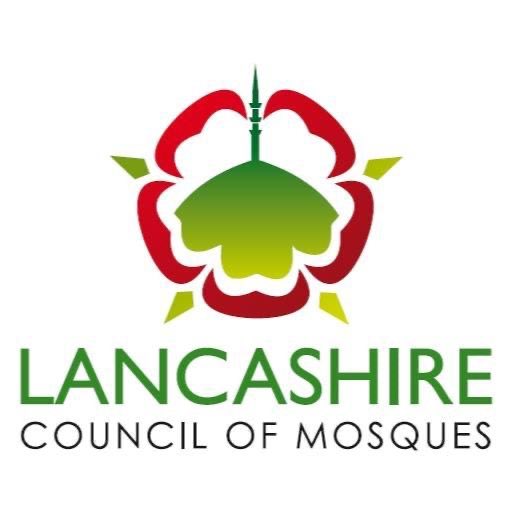 2711:44 PM – Mar 18, 2020Twitter Ads info and privacy20 people are talking about this
The Rochdale Council of Mosques advised their members to follow NHS guidelines to help stop the spread of coronavirus


Information for our masajids & the Muslim community on practical steps for fulfilling our Ibadat & staying safe from the #CoronaVirus is on this sheet.

It's important to be sensible and do the things we should do anyway, like #WashingHands & using Tissues when sneezing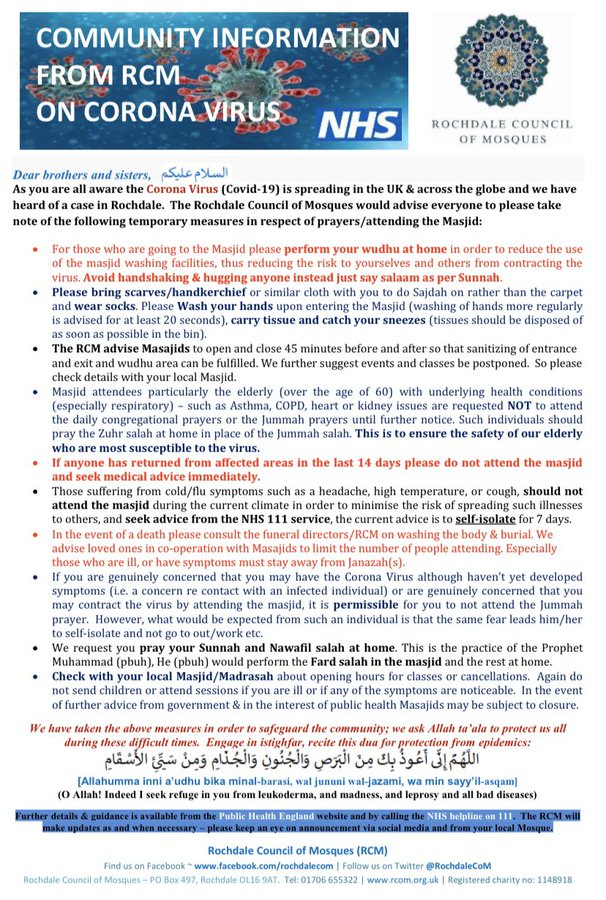 165:59 PM – Mar 16, 2020 · Manchester, EnglandTwitter Ads info and privacySee Rochdale CoM's other Tweets

---
*related video(s) to your this interest, tap the image to retrieve the video. some times you wont see any related video(s) for youtube API & Quota issue, or some times you see video(s) unrelatedly. please excuse the drawback while such stuff happens.
No Video(s) Found,
Follow us on Facebook.com/MyCtgBanglaMCB
---

Just Share the Story, Like & SUBSCRIBE our
Page: ) Like
&
Channel: ) SUBSCRIBE
*This is the only Thing what we ask from you in exchange for our free forever service.