Search
Just What's on Your Mind ? . . .
*this search panel is awesome, also enhanced by google, you won't h'v to leave MCB for your regular google search, thanks to magical power of ajax & jquery.
---
Hi Viewer,
*Please scroll down for your Story, Meanwhile as a MCB user please be noted: We do not allow typical good-bad-foul comment culture in this platform, rather if you want, you may post a counter-constructive story to this story by copy/paste this post link in your next Publish screen. Moreover MCB is an open platform where anybody can moderate anybody's post.
You may add your Story ;
Add your

News,


Views,
Consciences,


Etc.


as mcbStory
How to Post on MCB ?
No SignUp,
Just LogIn with our open credentials:
Publish News, Views, Consciences, Etc.
Pick any one to Publish:
Power to Edit/Add/Improve any Post ! 
Visit  MCB Policy
:) Citizen Journalism :)
---
---
MCB is an Open Online Platform with a unique, one & only Open Online Profile – 'WerMCBzen(wermcbzen)' where you Possess the Power to Edit/Add/Improve any post or anybody's content, but you should keep in mind, that Power always comes with some sort of responsibilities. So please be responsible by yourself to your Power.  It is made with Love for Lovable & Sensible People Only.
Story starts  here
---
Your Story here :
108
people 👁️ing this randomly
If it wanted to, Russia could start its own internet, Says Moscow
Russia is fully capable of launching its own "parallel internet" if its relationship with the West continues to deteriorate, a top diplomat in Moscow has said.
Under Russian President Vladimir Putin, senior officials have repeatedly stoked fears about the internet in general, which Putin claimed was a product of the U.S. Central Intelligence Agency as recently as 2014. Over the past few years, the Kremlin has introduced new laws increasing oversight of the internet, granting state watchdogs the right to take down websites without a court's ruling, demanding all big sites relocate servers to Russia if they handle Russians' data and mandating internet providers of keeping records of all communications.
The suspicious attitude Russian officials have toward the web has prompted Putin's internet policy adviser German Klimenko to say the West may "push a button" and disconnect Russian from the internet. But according to the Russian foreign ministry's head of the Department on New Threats, Ilya Rogachev, Moscow is entirely capable of activating a rival network.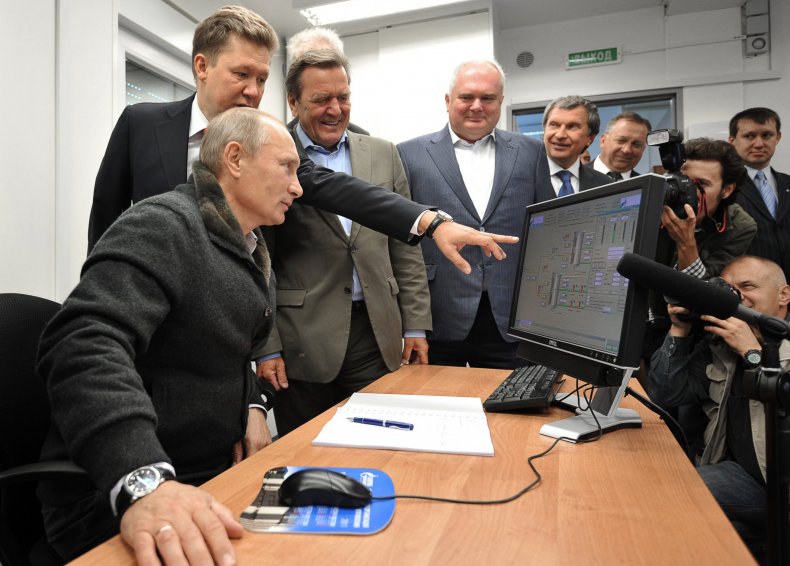 From left, Vladimir Putin, Gazprom CEO Alexei Miller and former German chancellor Gerhard Schroeder look at a screen as they attend the inauguration of the Nord Stream Project information mount at the gas compressor station 'Portovaya' outside Vyborg, September 6, 2011. Putin and other officials have repeatedly voiced variably informed worries about foreign control of Russia's internet. Alexey Nikolsky/AFP/Getty Images
Newsweek subscription offers >
"What would lead to this more than anything else is the policy of our Western partners, imposing double standards," Rogachev told state news agency Itar-Tass. He did not specify what exactly he was referring to but later added that he believed Western methods of censorship online "were developed a great deal more than in Russia."
"If these double standards continue to be imposed, then, in the most unpleasant of perspectives in this regard, can we speak of creating a so-called parallel internet," he added, explaining that Russia is not actively working on such a project at the moment. "The technical, financial, intellectual and all other capabilities for this, we have, but I don't think that it is something anybody wants strongly."
The strategy of a state-limited internet, or "internet sovereignty," has spawned several debates, including a suggested analog to the web available only to Russia and a handful of neighboring states named after the famous Soviet cartoon character Cheburashka. Discussed in Russia's Senate in 2014, officials have not publicly revisited the topic since.
Related: Apparently, the Russian government asks Google to take down more content than any other country
Newsweek subscription offers >
Putin's security council once again broached the topic of an internet more dependent on the Kremlin's rulings in November, but this time presented it as a potential joint venture between the forum for emerging economies Brazil, Russia, India, China and South Africa, RBC reported. The project reportedly handed to the Russian Ministry of Communications last year had a deadline of next month.
---
MCB Love to Mention : )
Content Courtesy →
If it wanted to, Russia could start its own internet, Says Moscow
Have A Views ?
Pay A Visit :
MCB-NewParallelInternetWorldOrder