Search
Just What's on Your Mind ? . . .
*this search panel is awesome, also enhanced by google, you won't h'v to leave MCB for your regular google search, thanks to magical power of ajax & jquery.
---
Hi Viewer,
*Please scroll down for your Story, Meanwhile as a MCB user please be noted: We do not allow typical good-bad-foul comment culture in this platform, rather if you want, you may post a counter-constructive story to this story by copy/paste this post link in your next Publish screen. Moreover MCB is an open platform where anybody can moderate anybody's post.
You may add your Story ;
Add your

News,


Views,
Consciences,


Etc.


as mcbStory
How to Post on MCB ?
No SignUp,
Just LogIn with our open credentials:
Publish News, Views, Consciences, Etc.
Pick any one to Publish:
Power to Edit/Add/Improve any Post ! 
Visit  MCB Policy
:) Citizen Journalism :)
---
---
MCB is an Open Online Platform with a unique, one & only Open Online Profile – 'WerMCBzen(wermcbzen)' where you Possess the Power to Edit/Add/Improve any post or anybody's content, but you should keep in mind, that Power always comes with some sort of responsibilities. So please be responsible by yourself to your Power.  It is made with Love for Lovable & Sensible People Only.
Story starts  here
---
Your Story here :
103
people 👁️ing this randomly
Make Your Laundry Room the Chicest Room in Your House
Every item on this page was curated by an ELLE Decor editor. We may earn commission on some of the items you choose to buy.
Function paired with personality.
Jan 13, 2020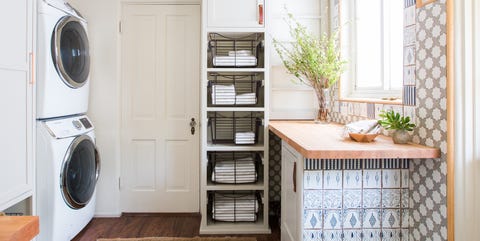 Tessa Neustadt
With a little effort, the laundry room can be just as stylish and organized as the rest of the house. From painted cabinetry and detailed tilework to unique hardware and storage baskets, these 30 beautiful laundry rooms offer plenty of inspired ideas for transforming your laundry room into a standout space you'll want to show off to guests.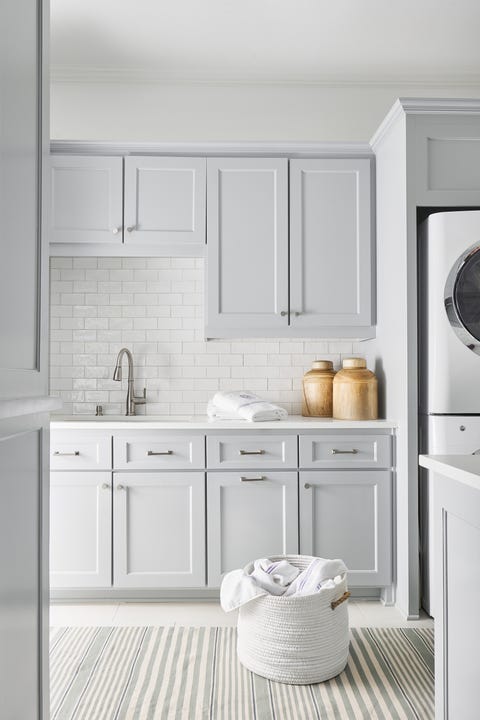 Stephen Karlisch
1 of 30
Bright Shades of Gray
Here, Denise McGaha Interiors created a calming laundry room grounded in shades of white and pale gray.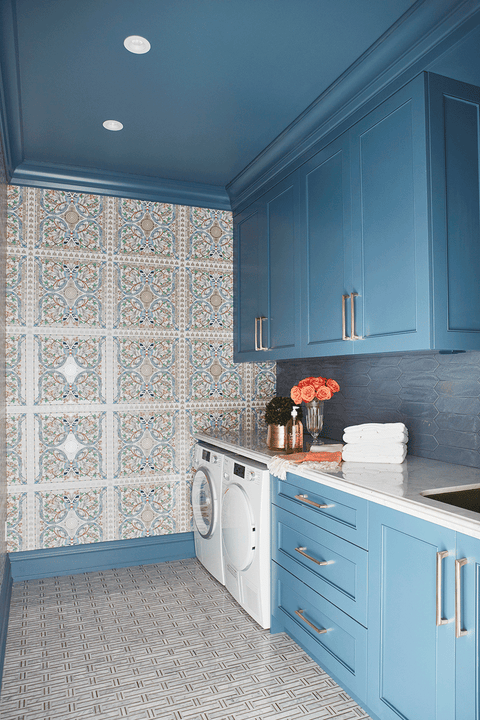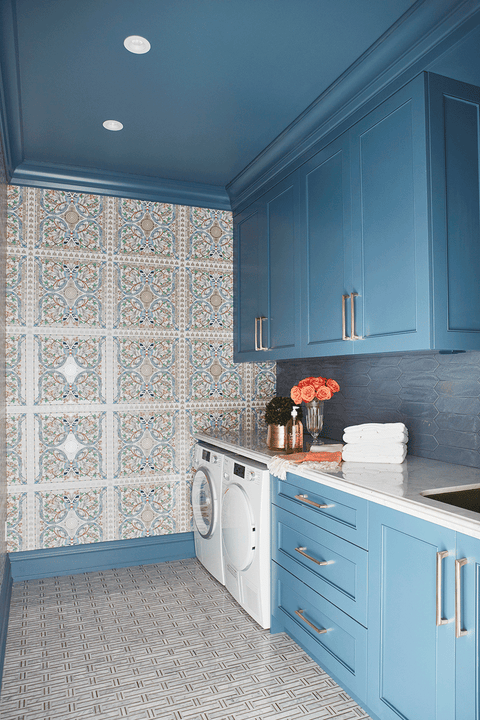 Stacey Brandford
2 of 30
Mixed Patterns
Creative wallpaper contrasts with patterned marble tiles in this fresh space by Alexandra Naranjo Design.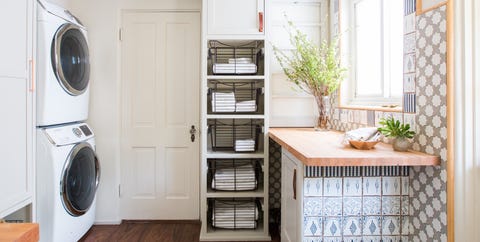 Tessa Neustadt
3 of 30
Indulging in Geometry
In this laundry area, Stefani Stein Inc. used detailed, cement tile to craft a compelling design.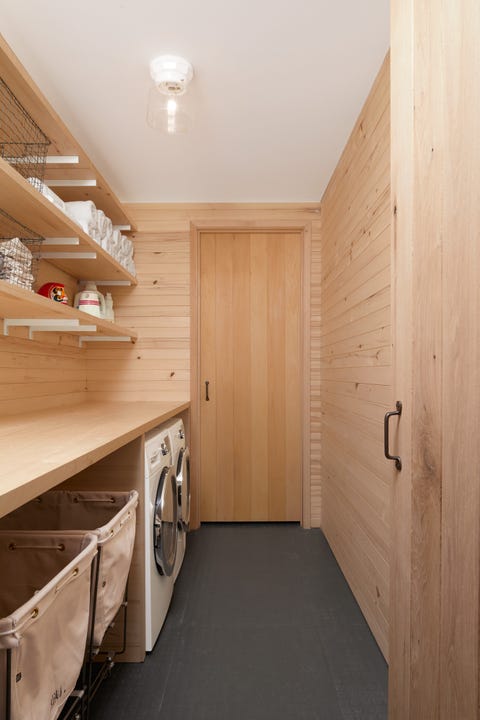 Jeff Cate
4 of 30
Natural Wood
For a Hudson Valley vacation home, Magdalena Keck Interior Design outfitted the laundry room in natural wood from Aspen.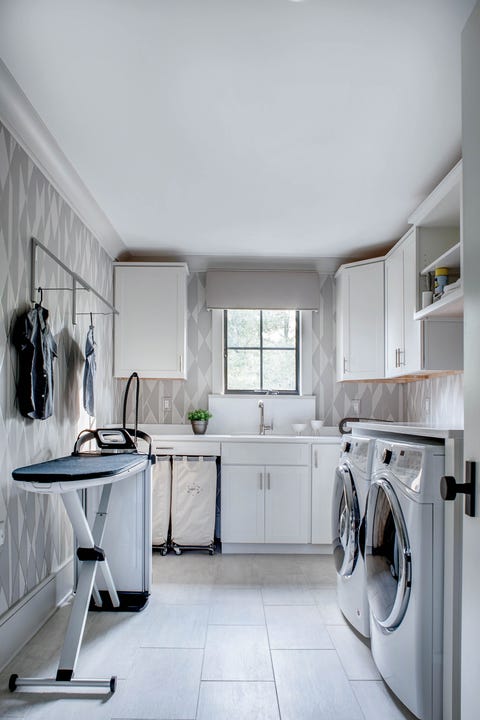 Andrea Cipriani Mecchi
5 of 30
Farmhouse Neutrals
Geometric wallpaper gives a boost of energy to this laundry room in a modern farmhouse. Design by Michele Plachter Design.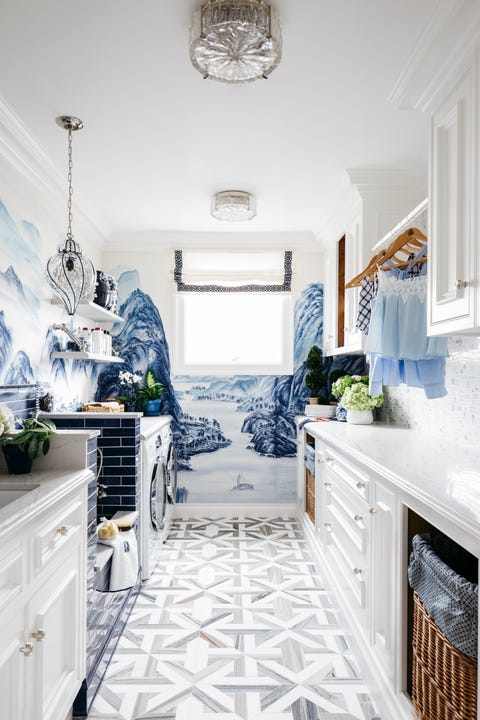 Christopher Stark Photography
6 of 30
Azure Landscapes
In this space from Dina Bandman Interiors, vivid blue wallcoverings are complemented by natural wood colors and gray patterned floor tiles.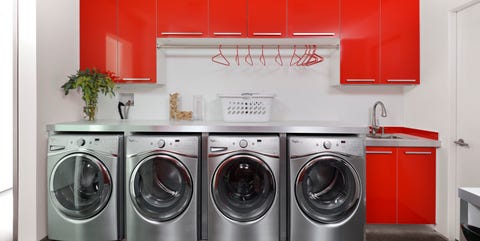 Jim Tschetter
7 of 30
Glossy Cabinetry
For this laundry room, Dresner Design created a large, comfortable space where chores can be easily accomplished.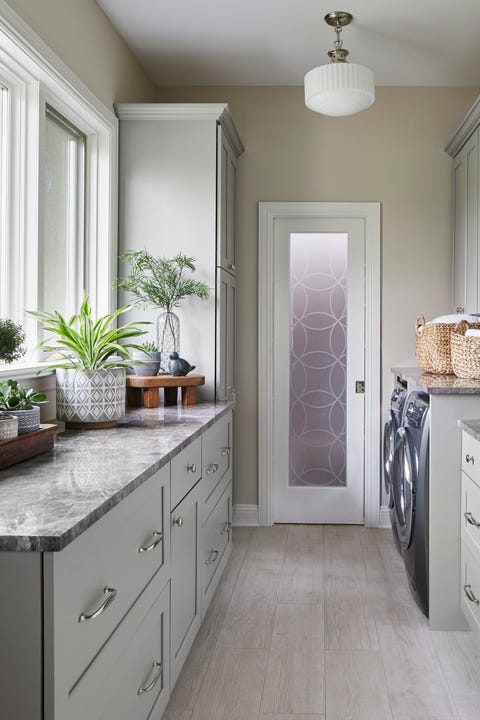 Werner Straube
8 of 30
Serene Neutrals
Healthy plants and woven baskets contribute to a clean, natural vibe in this room from Studio Brunstrum.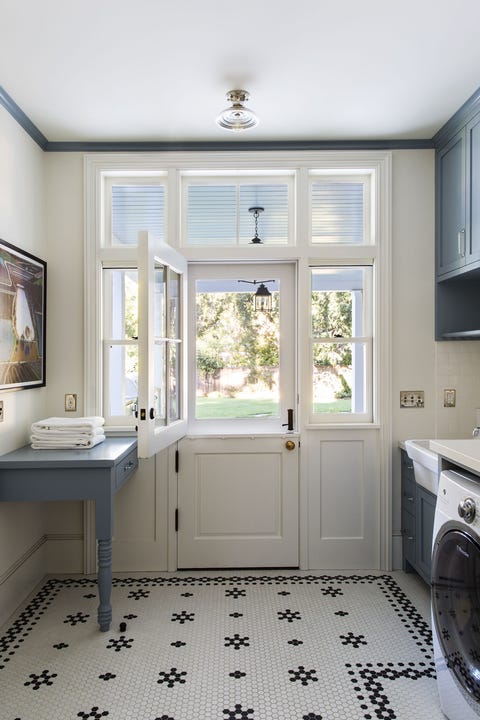 Laura Hull
9 of 30
Country Charm
In a Tennessee-style farmhouse, Tim Barber Ltd. designed a laundry room that opens up to the outdoors.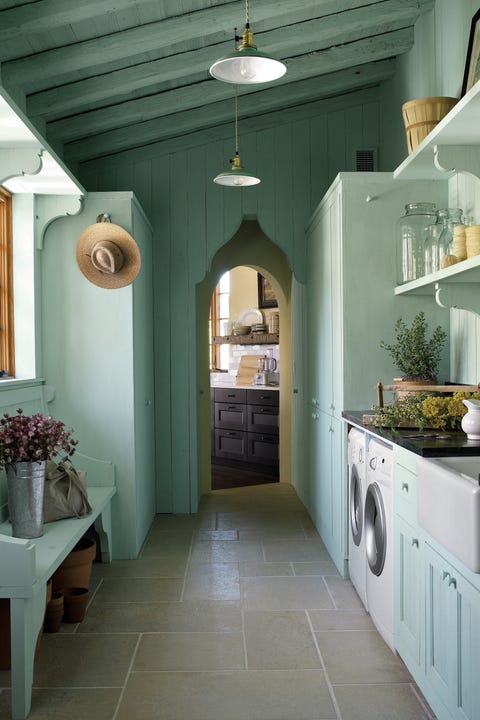 Tria Giovan
10 of 30
Greenhouse Effect
The wooden walls of this laundry room by Michael G. Imber, Architects are painted mint green for a chic, soothing effect.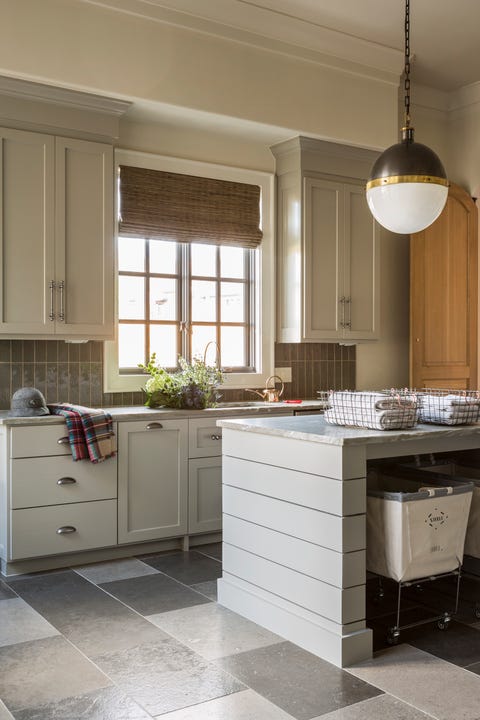 Rett Peek
11 of 30
Minimalist Influences
In this country house, a neutral-hued back kitchen and laundry by Casey Sarkin Interior Design, Luna Inc. takes advantage of ample space.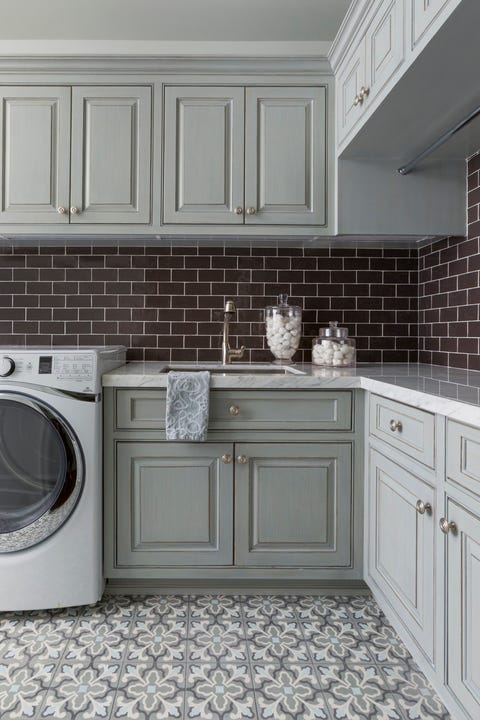 Julie Soefer Photography
12 of 30
Neutral Palette
Complementary neutrals in a design from Lucas Eilers Design Associates, LLP.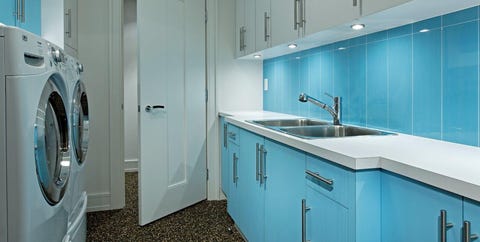 David Whittaker
13 of 30
Baby Blue
A laundry room from Douglas Design Studio uses vivid blue cabinetry to make a statement.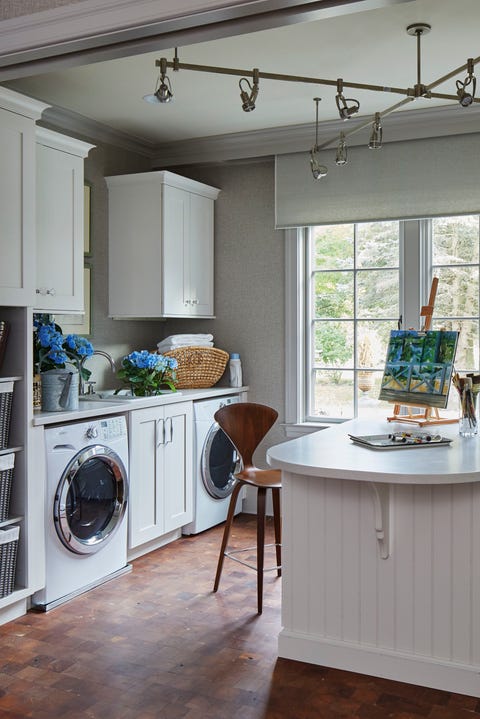 Werner Straube
14 of 30
Mixed Use
This laundry room from Elizabeth Drake is also an art studio.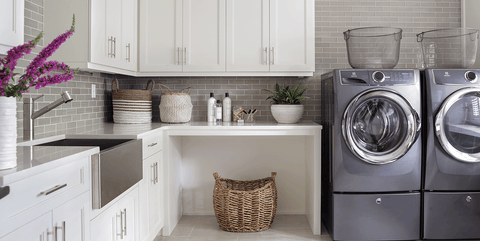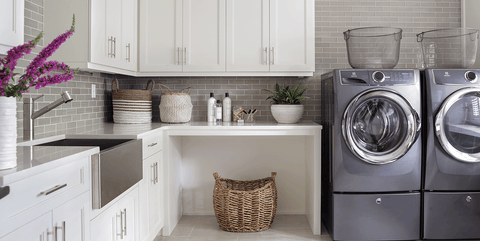 Peter Rymwid Photography
15 of 30
Organic Accents
Woven baskets and plants bring warmth to a space from Valerie Grant Interiors.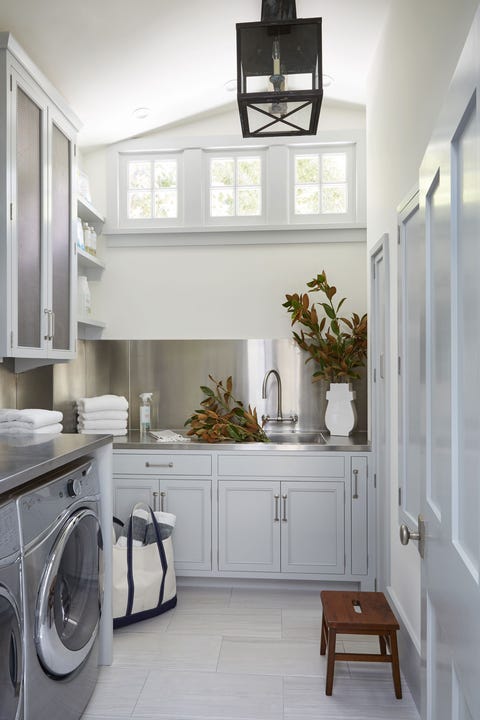 Roger Davies Photography
16 of 30
Ranch-Style Chic
A ranch house renovation from Tim Barber Ltd. relies on natural wood and black accents to round out the calm, minimalist design.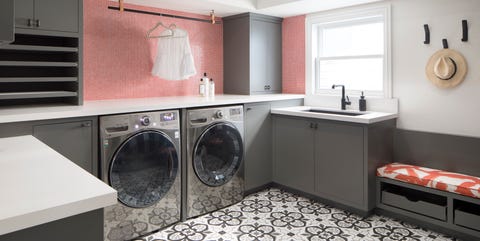 Paul Dyer
17 of 30
Posh Pairings
Red wall tiles and black-and-white patterned floor tile feels posh in this streamlined laundry room/mudroom from Jeff King & Company.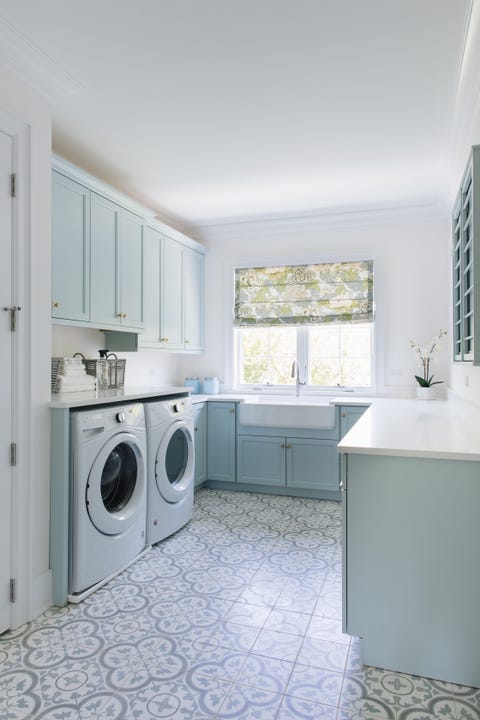 Stoffer Photography Interiors
18 of 30
Open & Airy
An airy, calming laundry area from Ash Street Interiors.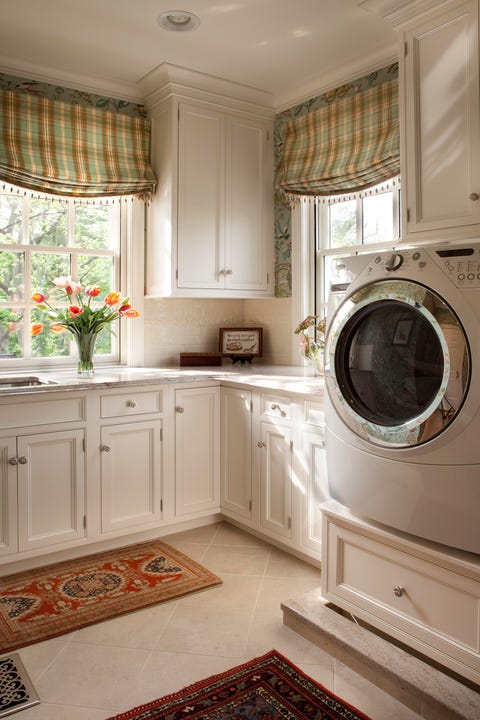 Tim Proctor Associates
19 of 30
Country Influence
A country-style laundry area from Diane Burgoyne Interiors features an eclectic mix of patterns and textiles.

Eric Roth Photography
20 of 30
Pattern Play
Eclectic wallcoverings create a fun, unique environment in a space from Liz Caan & Co.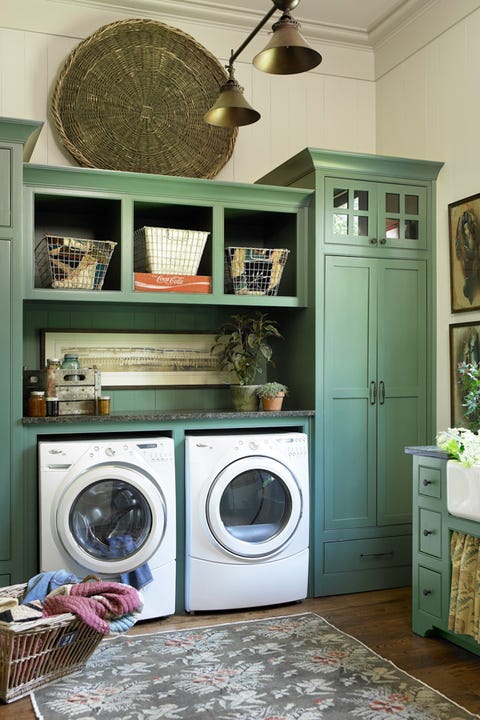 Emily Jenkins Followill
21 of 30
Green Elements
Green cabinetry provides an interesting touch to this multifunctional space from Historical Concepts.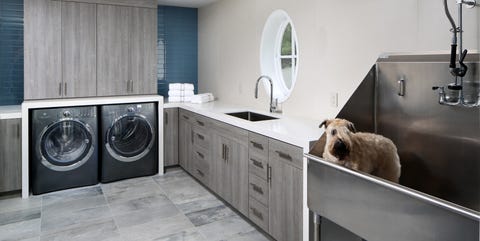 Bernard André
22 of 30
Detailed Design
This laundry room from TRG Architecture + Interior Design features gray wood cabinetry and a deluxe sink.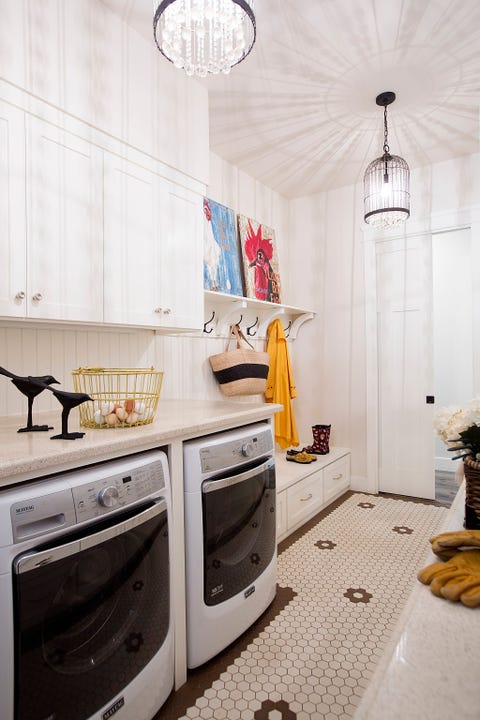 Michelle Drewes
23 of 30
Lighting Effects
In a modern Californian farmhouse by PepperJack Interiors, innovative lighting fixtures add a tasteful effect to this laundry room.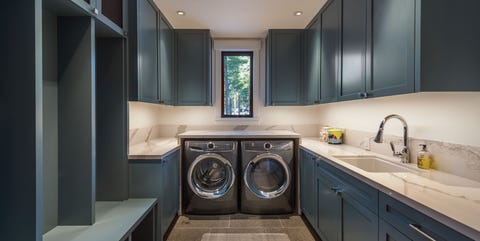 Vance Fox
24 of 30
Deep Blue
Rich blue cabinetry stands out in a laundry room by E. Esposito Interiors.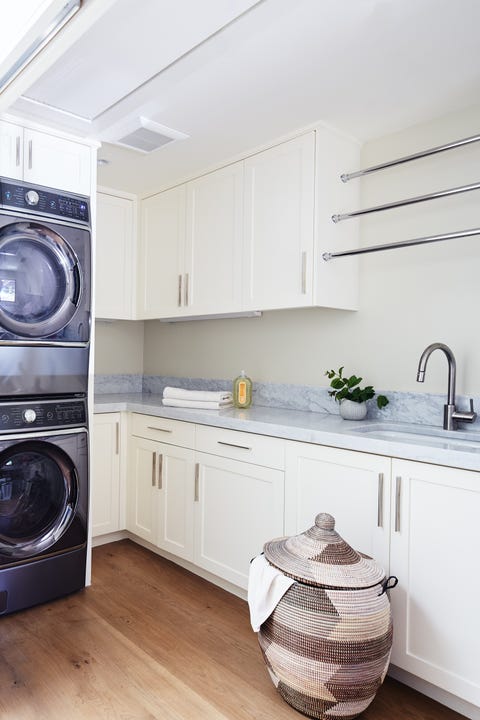 Brad Knipstein Photography
25 of 30
Elevated Environment
In this sparse laundry room by Staprans Design, marble countertops and a chic basket are interesting and unexpected.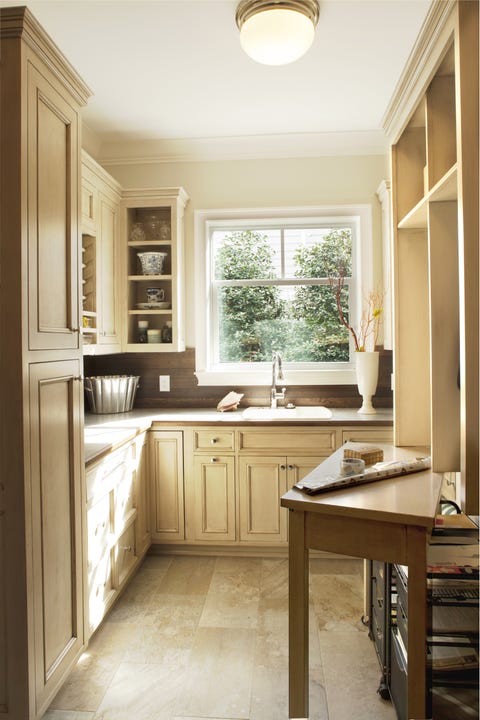 Neil Rashba
26 of 30
Natural Inspirations
In this laundry and craft room from Amanda Webster Design, Inc., gorgeous natural woods contribute to a soft, calming ambience.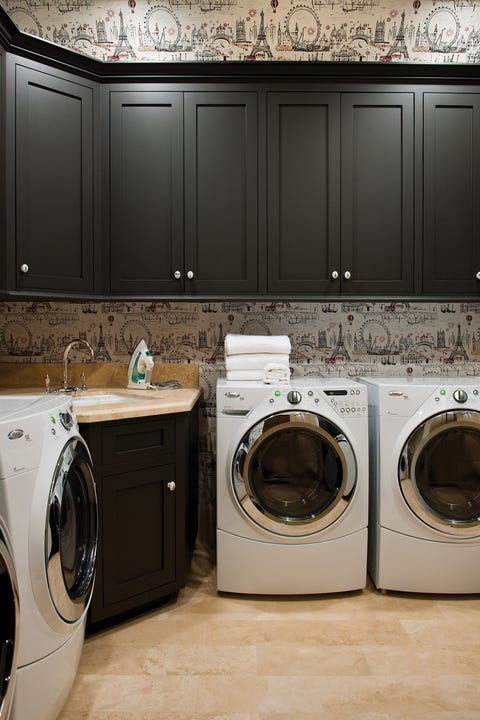 Dan Piassick
27 of 30
Paris Je T'Aime
Creative, Parisian-inspired wallcoverings are an unconventional backdrop for this laundry room from BettyLou Phillips.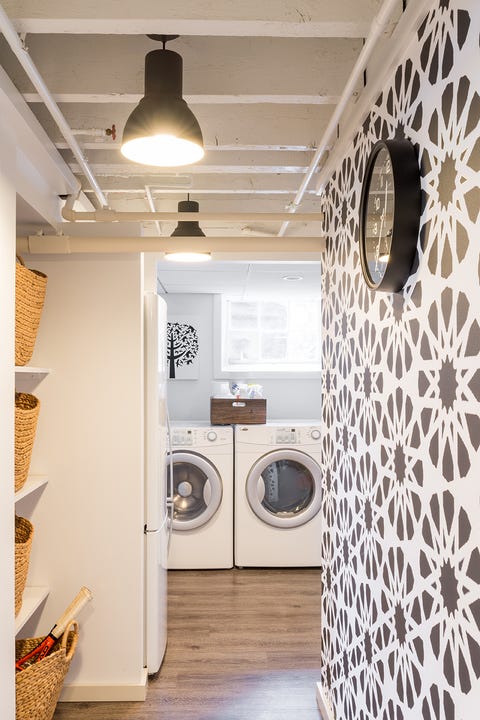 Jessica Delaney
28 of 30
Storage-Focused Space
For a space by Justine Sterling Design that combines a kids' art studio, mudroom, and laundry area, baskets help create a wealth of storage options.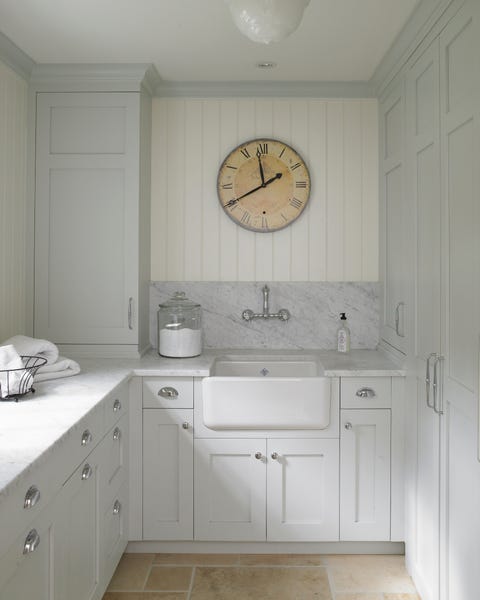 Nancy Elizabeth Hill
29 of 30
Pale Colors
Blue-toned cabinets complement a cool stone floor in this laundry area by Huestis Tucker Architects, LLC.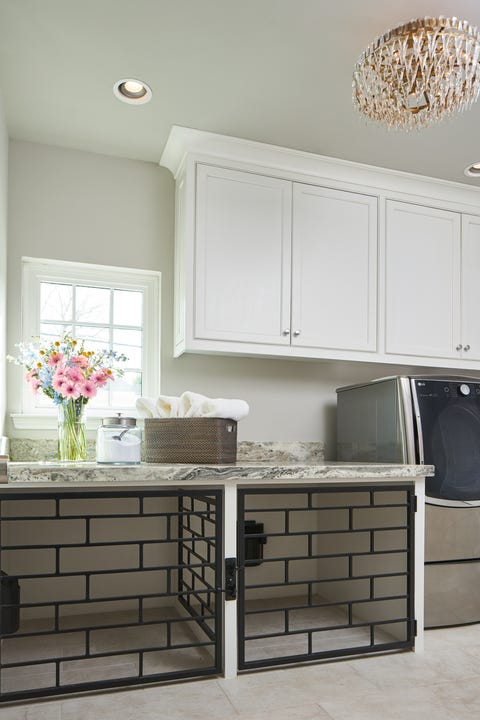 Stephen Karlisch
30 of 30
Pet-Friendly
Wesley-Wayne Interiors included custom dog housing in this elegant laundry area.
Advertisement – Continue Reading Below
This content is created and maintained by a third party, and imported onto this page to help users provide their email addresses. You may be able to find more information about this and similar content at piano.io
---
MCB Love to Mention : )
Content Courtesy →
Make Your Laundry Room the Chicest Room in Your House
Have A Views ?
Pay A Visit :
MCB-Room Renovation Random