Search
Just What's on Your Mind ? . . .
*this search panel is awesome, also enhanced by google, you won't h'v to leave MCB for your regular google search, thanks to magical power of ajax & jquery.
---
Hi Viewer,
*Please scroll down for your Story, Meanwhile as a MCB user please be noted: We do not allow typical good-bad-foul comment culture in this platform, rather if you want, you may post a counter-constructive story to this story by copy/paste this post link in your next Publish screen. Moreover MCB is an open platform where anybody can moderate anybody's post.
You may add your Story ;
Add your

News,


Views,
Consciences,


Etc.


as mcbStory
How to Post on MCB ?
No SignUp,
Just LogIn with our open credentials:
Publish News, Views, Consciences, Etc.
Pick any one to Publish:
Power to Edit/Add/Improve any Post ! 
Visit  MCB Policy
:) Citizen Journalism :)
---
---
MCB is an Open Online Platform with a unique, one & only Open Online Profile – 'WerMCBzen(wermcbzen)' where you Possess the Power to Edit/Add/Improve any post or anybody's content, but you should keep in mind, that Power always comes with some sort of responsibilities. So please be responsible by yourself to your Power.  It is made with Love for Lovable & Sensible People Only.
Story starts  here
---
Your Story here :
160
people 👁️ing this randomly
Jumma Mubarak ! जुम्मा मुबारक ! Friday Status Wish images
ya allah aaj jumma ki namaz ke bad jitne bhi hat teri bargah me dua ke liye uthe hai sabki dua qabool farma. آمین
assalamu alaikum jumma mubarak dua mein yaad rakhna

allah ke huzoor mein sar ko jhuka ke dekh
milta hai kya namaz mein sajde mein ja ke dekh

namaz to wo shaan hai jo rok dete hain tawaf-e-kaba ko e insaan
tere kamo ki kya aukat hai jis ke lie too namaaz ko chhor deta hain.

chaar cheezo ko khoob sambhal ke rakho
1: namaz mein dil ko
2: tanhai mein soch ko
3: mehfil mein zuban ko
4: raaste mein nigahon ko

ya rab unaka sada laazawaab rakhana
main unse door hoon unaka khyaal rakhana
mere jab bhee haath uthe yahi dua nikle
unke gird hamesha khushiyon ka jaal rakhana

hamari to dua hai ye koi gila nahin
wo phool jo aaj tak yahaan khila nahin
khuda kare aapako vo sab kuchh mile
jo aaj tak kisee ko kabhee mila nahin.

tasveer e kainaat ka aks hain allaah
dil ko jo jaga de vo ehasaas hain allaah
e baanda e momin tera dil kyon udaas hain
dil se zara pukaar tere paas hain allaah.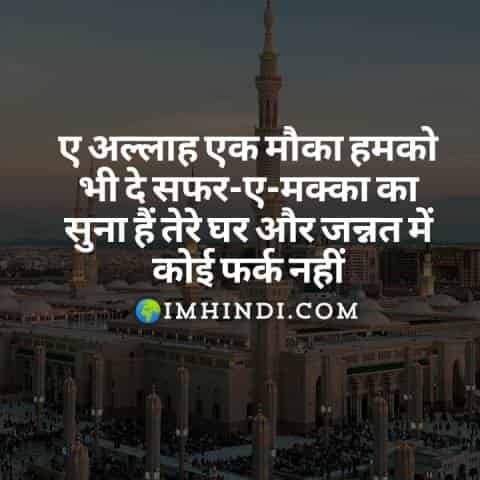 ae allah ek mauka hum ko bhi de sahare-makka ka
suna hain tere ghar aur jannat mein koi farak nahin

---
MCB Love to Mention : )
Content Courtesy →
Jumma Mubarak ! जुम्मा मुबारक ! Friday Status Wish images
Have A Views ?
Pay A Visit :
MCB-JummahMubarak